ASEAN Secretary General's Opinion on Empowering ASEAN MSMEs to Embrace Circular Economy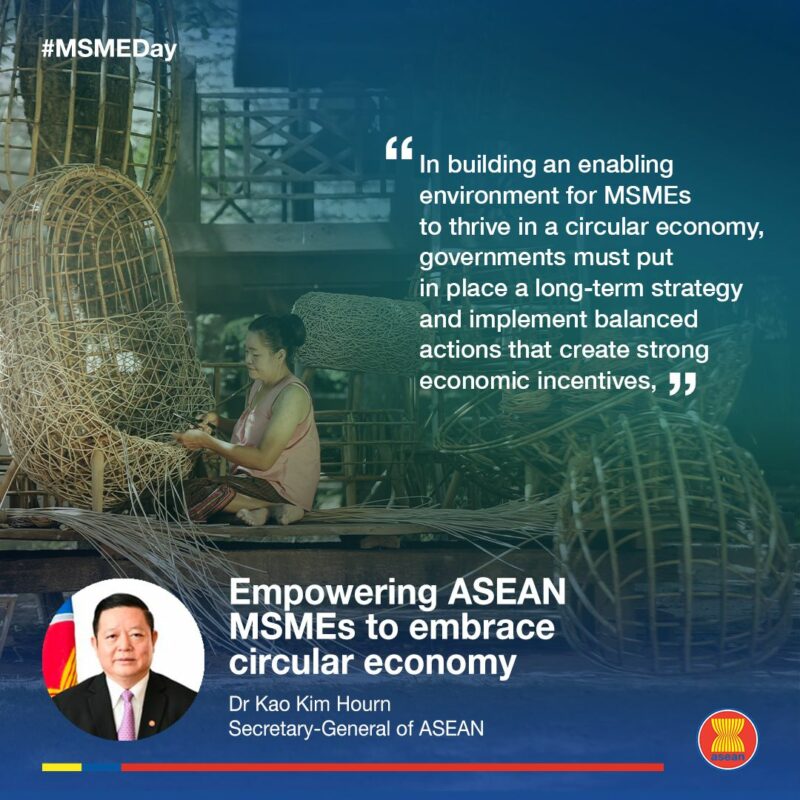 This Op Ed was published in ASEAN on June 27 to mark MSME Day and in ASEAN FOR BUSINESS  Monthly Bulletin on June 2023
Mark Sultan Gersava, a peace development worker from Mindanao, Philippines, recognised the urgency of addressing climate change and empowering local communities. He founded Bambuhay, an enterprise producing eco-friendly bamboo straws and toothbrushes to replace plastic-based products. The venture has had a profound impact, benefiting 13,910 farmers and lifting 68 families out of poverty. Bambuhay's efforts have removed approximately 1,100 tons of plastics from the environment and planted nearly 40,000 trees and bamboo.
The COVID-19 pandemic accelerated the shift towards a circular economy and sustainable development. The surge in online shopping and food delivery generated more packaging waste, emphasising the need for waste reduction and resource conservation. Socially responsible enterprises like Bambuhay gained support from consumers seeking sustainable products, leading to increased demand for eco-friendly alternatives.
Micro, Small, and Medium-sized Enterprises (MSMEs) play a crucial role in ASEAN's socioeconomic development, representing 85% of employment and 44.8% of the region's GDP. Many MSMEs, including Bambuhay, have embraced circular practices and innovative technologies, enhancing their competitiveness and appealing to conscious consumers. However, MSMEs face challenges in transforming their business models, requiring investment in research, supply chain changes, and partnerships.
ASEAN is promoting collaboration and initiatives to educate and upskill MSMEs in circular business practices to achieve MSME circularity. The Framework for Circular Economy for ASEAN Economic Community lays the groundwork for a supportive ecosystem. Policymaking dialogues and partnerships foster inclusivity and effective communication among stakeholders. Resources like the Climate Change Guidelines for ASEAN SMEs and the ASEAN SME Academy's Business Continuity and Resilience Tab further aids MSMEs in adopting sustainability practices.
Bambuhay's success illustrates how sustainable business models offer MSMEs a competitive edge. By capitalising on consumers' changing preferences for environmentally friendly products, businesses can differentiate their brands and reduce costs through innovative production processes. ASEAN must collaborate to support and nurture more MSMEs, unlocking their potential for sustainable economic growth while conserving the environment. Addressing challenges in financing and technology will further empower MSMEs and contribute to a more resilient and prosperous ASEAN economy.
To download ASEAN FOR BUSINESS  Monthly Bulletin on June 2023 visit: https://asean.org/wp-content/uploads/2023/07/ASEAN-for-Business-Bulletin-June-2023.pdf