16th Asia Pacific Roundtable on Sustainable Consumption and Production (16th APRSCP 2022: Carbon Neutral Event)
"Bridging Net Zero Transition by SCP and Circular Economy"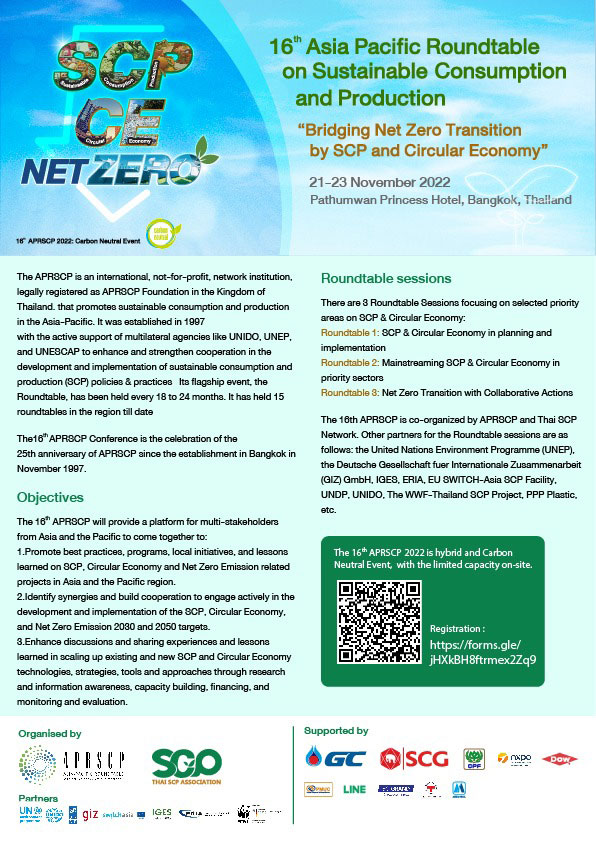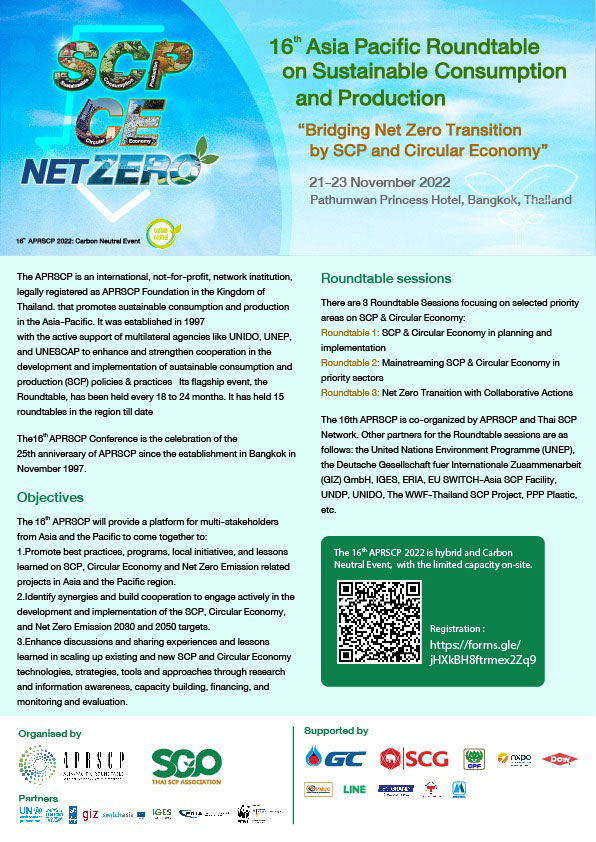 The Asia Pacific Roundtable for Sustainable Consumption and Production (APRSCP) is an international, not-for-profit organization established to foster dialog and partnerships through the multi-stakeholder process to enhance and strengthen cooperation in the development and implementation of Sustainable Consumption and Production (SCP) policy and strategies in Asia and the Pacific. APRSCP works extensively to promote SDG 12 and SDG 17 and, through our various activities, contributes towards achieving SDGs and promoting a blue-green economy in the region.
Its flagship event, the Roundtable, has been held every 18 to 24 months since its inception to facilitate the uptake of SCP research, policy, and practice in the region. It has held 15 roundtables in the area to date. These roundtables were hosted by member countries in the region and were co-organized by the APRSCP, national governments, and its partners such as UNEP, UNIDO, GIZ, and IGES. APRSCP has brought transformative changes in the region, leading to lasting and profound impacts on SCP policy and governance, and emerged as the VOICE of SCP in the Asia-Pacific region.
The region has seen commendable progress in adopting SCP practices, and APRSCP is proud of its contributions to mainstreaming SCP in the area. However, it is not the time to be complacent as it firmly believes that economic growth has yet to translate into progress for millions in the Asia Pacific, and the region faces several challenges. In this critical time, the area needs leadership, courage, and optimism to spark action and bring about transformative impacts on the lives of millions. This edition of the Roundtable, i.e., the 16th APRSCP Conference, is a small step in that direction and also the celebration of the 25th anniversary of APRSCP since its establishment in Bangkok in November 1997.
The 16th APRSCP is co-organized by APRSCP and Thai SCP Network. Other partners for the Roundtable sessions are as follows: the United Nations Environment Programme (UNEP), the Deutsche Gesellschaft fuer Internationale Zusammenarbeit (GIZ) GmbH, IGES, ERIA, EU SWITCHAsia SCP Facility, UNDP, UNIDO, The WWF-Thailand SCP Project, PPP Plastic, etc. The 16 th APRSCP is made possible with the financial support of diamond sponsor (PTT Global Chemical Public Company Limited-PTTGC, and Siam Cement Group Public Company Limited-SCG), platinum sponsors (Office of National Higher Education Science Research and Innovation Policy Council-NXPO, and Charoen Pokphand Foods Public Co. Ltd.-CPF), gold sponsors (Program Management Unit for Competitiveness-PMUC, Dow Thailand GroupDow, and LINE Company(Thailand) Limited -LINE) and silver sponsors (Saeng Charoen Grand Company Limited-SC Grand, and Thai Taffeta Company Limited-Thai Taffeta). The 16th APRSCP is the carbon neutral event with the kind support from Mitr Phol Sugar Corporation, and Federation of Thai Industries-FTI.
For More Information and Registration