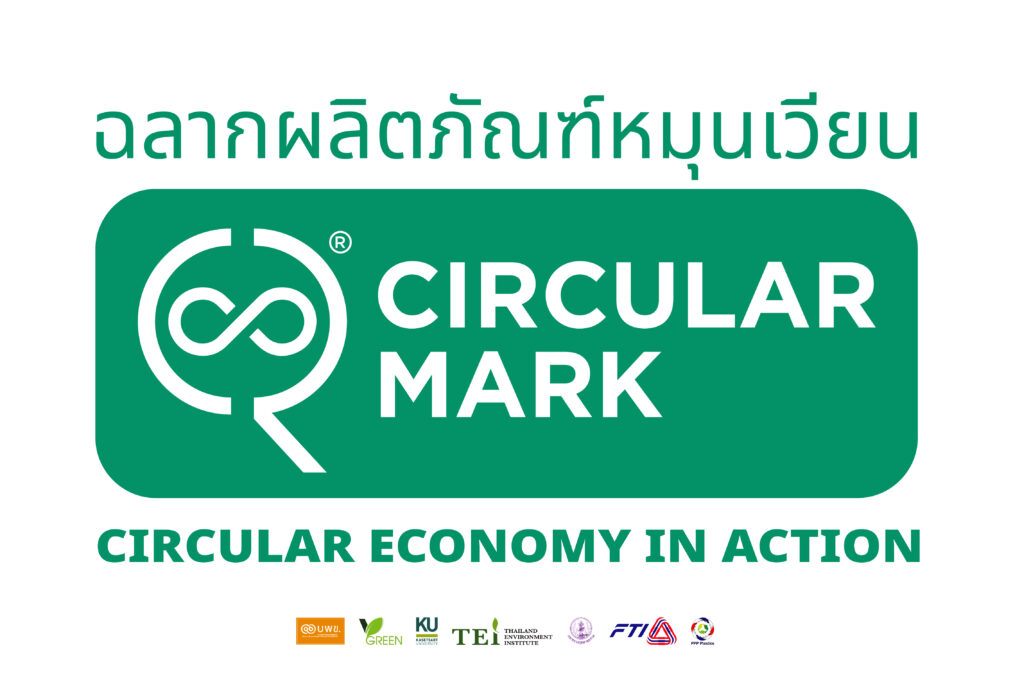 ---
Thailand Officially Launched "Circular Mark" as an Official Environmental Label for Circular Products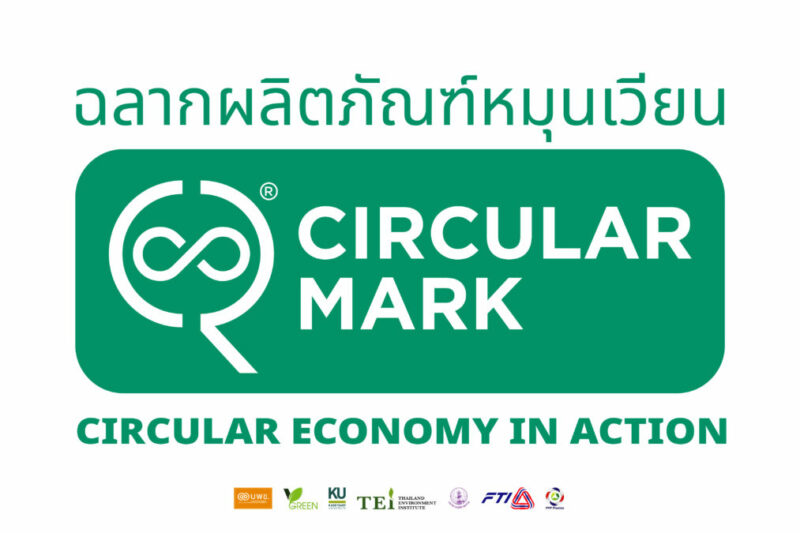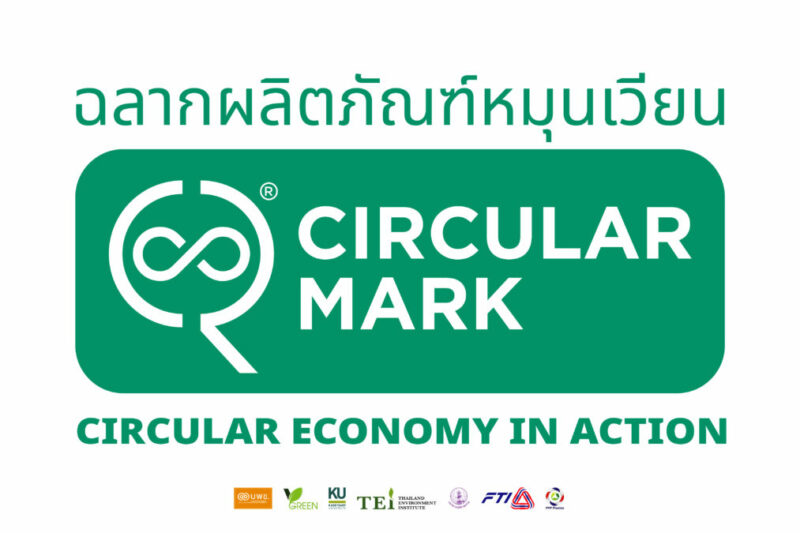 Officially launched… "CIRCULAR MARK," a mark for a certified renewable product, boosts consumer confidence in the quality of the product and adds value for business owners. It is an assurance that the production process was ecologically friendly and that the products and packaging were made to ease material recycling.
This is a crucial component of the BCG economic model, a national-level agenda, with the objective of driving the nation's circular economy strategy. The "CIRCULAR MARK," the first developed environmental labelling system for renewable products in the region and the world, was developed with funding from PMUC. The research project is being led by Assoc. Prof. Rattanawan Mangkang, Ph.D., director of VGreen. It aims to bridge the gap and bring together important value chain participants, including brand owners, manufacturers, consumers, and recyclers, to develop a practical circular economy in Thailand by concentrating on 5 target industries: food, agriculture, building materials, plastic packaging, and fashion/lifestyle. With this initiative, Thai entrepreneurs are urged to approach marketing from a wider angle with the goals of establishing their leadership in the circular economy, building their brands, and boosting the competitiveness of the nation as a whole.
On May 6, 2022, PMUC, in collaboration with partner agencies, namely the Center of Expertise on Environmentally Friendly Business Strategies (VGreen), Faculty of Environment, Kasetsart University and the Thailand Environment Institute (TEI), along with the Ministry of Industry, Federation of Thai Industries, convening in conjunction with a cooperative project among public, private, and the civil society sectors in the management of plastic and waste in a sustainable way, or PPP Plastics group, to jointly hold a press conference titled  "CIRCULAR MARK, CIRCULAR ECONOMY IN ACTION" to hand over a prototype of environmental product labeling system to the Thailand Environment Institute for follow-thru action. Also an MOU was signed between PMUC, TISI, OPDC, FTI in developing the CIRCULAR MARK as a standard and national certification system. Also, a CIRCULAR MARK certificate was awarded to 30 pilot companies and 376 products that became the leading Circular Companies of the country.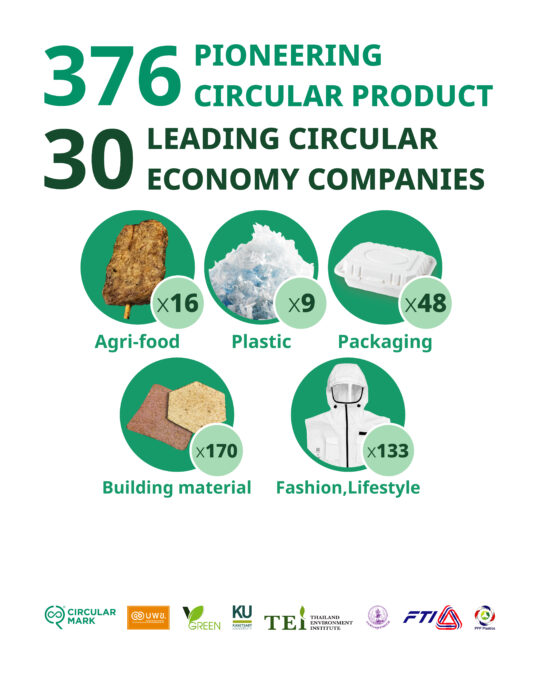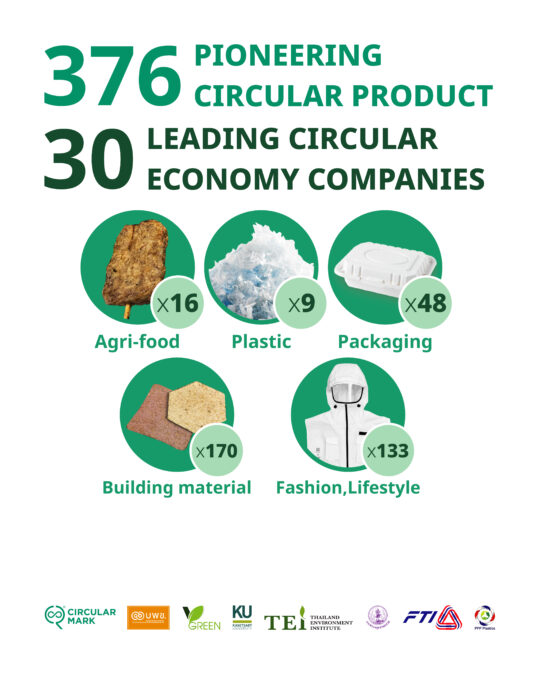 The development of Circular Mark into a national standard and certification system was also discussed at the occasion. The panellists included Mr. Wicharn Simachaya, Ph.D., Chairperson of the Economic Development subcommittee under the BCG Model, with a focus on the Circular Economy, Assoc. Prof. Siree Chaiseri, Ph.D., director of Program Management Unit for Competitiveness (PMUC), Mr. Eknitit Romyanon, deputy secretary of Thai Industrial Standards Institute (TISI), Mr. Krisada Ruangchotiwit, a member of the task force at the CCP on Sustainable Development, Federation of Thai Assoc. Prof. Rattanawan Mangkang, Ph.D., director of VGreen, moderated the conversation.
At the end of the discussion, Assoc. Prof. Siree Chaiseri, Ph.D., director of PMUC, said that "PMUC is ready to support and push for closing of various gaps in certification and verification mechanisms. Moreover, in this fiscal year 2023 specifically, PMUC is focusing on supporting research projects in circular economy in order to close the gap and connect relevant agencies in collaborative efforts to create a tangible progress towards a circular economy in Thailand. If any agency wishes to request funding for a project that is not within the ordinary scope of work of that agency, but rather a required task to obtain a certification or is something that needs to be done in cooperation with many agencies, PMUC will be happy to consider and help push to make it happen."
Resource waste, trash generation, greenhouse gas emissions, and other environmental repercussions are all covered in detail by the "CIRCULAR MARK" environmental labelling system for circular products. In accordance with the nation's circular economy policy, the goal is to encourage resource utilisation optimization, keeping resources circulating in the system to create as much economic value as possible, while decreasing waste and greenhouse gas emissions as well as other environmental impacts. The ultimate objective is to improve the quality of life for Thai society as well as the global community.
For entrepreneurs who are interested in requesting CIRCULAR MARK certification for your products, please contact Thailand Environment Institute (TEI) at Tel. 02503 3333, email info@tei.or.th
For more information please visit: https://pmuc.or.th/?p=7136&lang=en